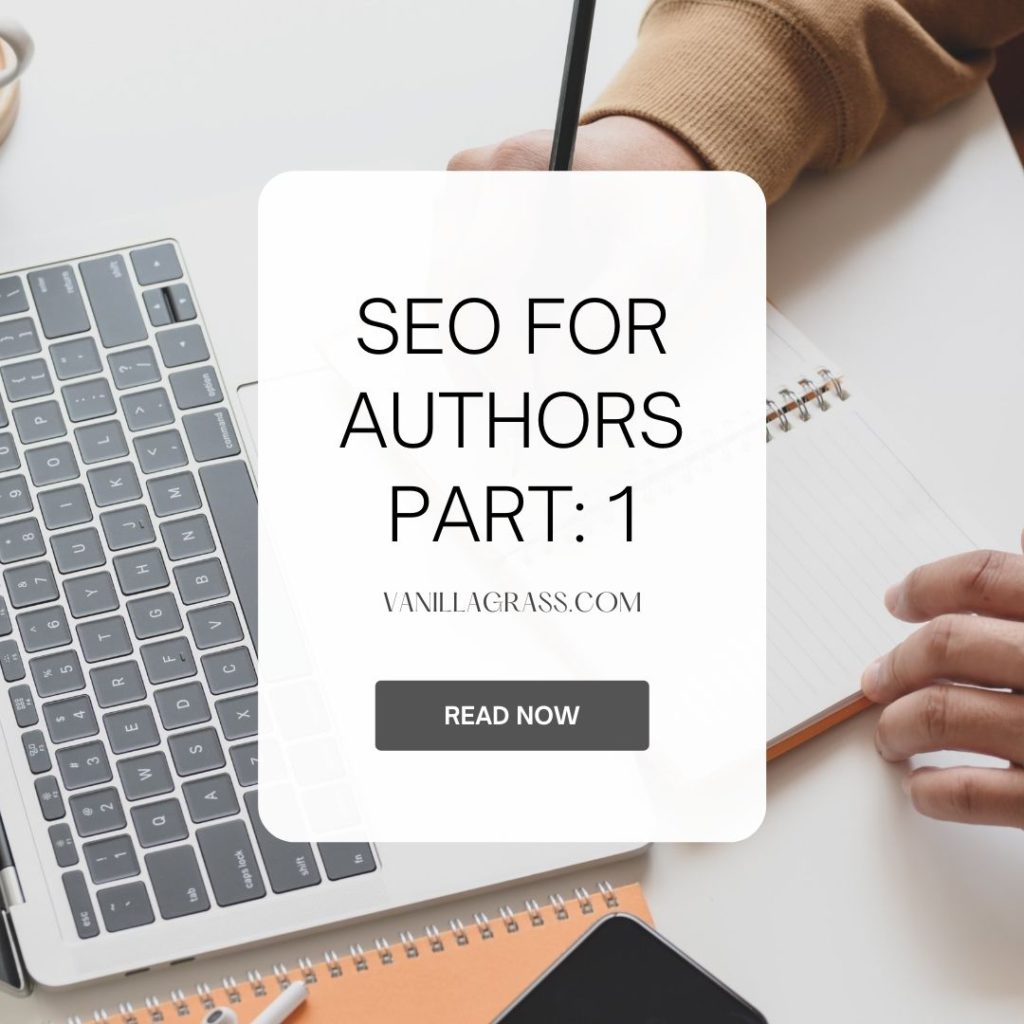 So…What is SEO for authors anyway? And why should writers care?
SEO is Search Engine Optimization and focuses on the keywords in texts that help algorithms in Google, Amazon, etc. sort and promote material.
What does SEO look like for authors, then?
Even if you're not writing a blog, you should still have an author page, pages for your books, guest articles on other platforms, blurbs for your books, etc. so that when people search for information on the internet, YOU come up.
But I'm a writer, not a tech nerd, dangit!
Fair point. But finding SEO keywords is easier than you think and can go a long way to making you more visible, especially if your name/series/or genre are saturated with other writers or prominent people. If there are 5 Jane Does, how do you stand above the others?
SEO.
And it matters, whether or not you understand it or take the time for learning how to use SEO to boost your results.
For example, I did some SEO work for my husband's tech company, and when I asked the CEO what keywords he wanted to use, he said: "I don't want to worry about keywords and all that junk, I just want to show up at at the top of Google."
…
See the problem? You will not rank on google without keywords because keywords are how Google knows what your website is all about. What you are all about. This includes your name, your titles and the genres you write, and anything else you want to emphasize for your career.
By matching what you write to the questions people type into google, you're greatly increasing your odds of being seen.

VanillaGrass.com
So where do we find these golden, nougaty words that will magic us into visibility?
Google!
SEO for Authors Option 1: Google Suggestions
When you start typing a question into google, what happens? Google cuts you off like an ADHD ten-year-old with what it thinks you're going to say next. These suggestions come from top searches others make that use the same words as your sentence. Helpful!
SEO for Authors Option 2: "People Also Ask"
This time, I'm talking about the box at the bottom of the search where it says "People also ask."
SEO for Authors Option 3: "Related Searches"
One more time on the google search page, this time at the bottom, you'll see a section labeled "Related Searches."
SEO for Authors Option 4: Google Analytics
This option is a little more complicated and used more for ensuring you chose the right SEO keywords to begin with. After you choose 1-3 keywords and phrases for your page, you can see how the results are fairing using Google's nifty software.
Below is what part of the dashboard looks like. If you go to interests in the left-hand column, it will pull up who is looking at your pages, when, and where.
The why is even there if you look hard enough. For instance, under the "What pages do your users visit?" section. This shows you which pages are bringing in readers.
Or in other words, which pages are a) interesting to your demographic and b) have the keywords needed for your readers to find them!
The more hits a page is getting, the more likely the SEO is good on that page. If you have a page with no hits, consider readjusting your keywords and phrases.
SEO for Authors Option 6: Other resources
So now that I know where to find them, how do I use this information?
How to Use SEO Keywords: Author-Style
The trick to SEO is to make sure that your sentences match as closely as possible to the sentences found on google and that they are used at least three times on a page. This doesn't mean you have to shove it down your readers' throats. There are organic ways to implement them. If, for instance, you check the above google resources about romances and decide to write about "romance writing examples," you can include it four times for a page that you plan on being shorter (500 words).
Author SEO Examples:
In your title!
SEO Example: 3 Romance Writing Examples that Will Help You Write Perfect Prose Every Time!
In the opening paragraph (very important! First sentence, if possible). So you can start your page off with:
SEO Example: "Looking for some amazing romance writing examples? You're in the right place!"
After your introduction, you should use a header to include the keywords (also important!). So you could have a header for a section that says:
3 Awesome Romance Writing Examples
include it in the last paragraph:
SEO Example: "I hope these romance writing examples were helpful! Now go out and try your own!"
But I'm Not Writing a Blog, How Can I Use SEO On My Author Page?
Fair question. And one that has a simple answer, especially if you apply what we've already gone over.
If you write Romantic Fantasies, for instance, you could google search Romantic Fantasies to see what else comes up in the first 3 sections above, then make sure you include those on your author pages.
Pick 1-3 of these search engine options to really double down on. Some, like romantic fantasy books, series, and ideas could be easily incorporated into your author page.
Author Page SEO Examples
Example:
Kyro Dean loves writing romantic fantasy books about djinn folklore in Turkey and throughout Europe.
You can also include the keywords inside places on your website. So a second hit could be on your widgets on the side.
Example:
You can purchase the Djinn Fire romantic fantasy series on Amazon! (with a link)
Or:
To stay up to date on all of Kyro's romantic fantasy books, sign up for her newsletter! (again, with a link to your Mailchimp or whatever email management service you use).
You can also include these keyword phrases in:
headers
footers
menus
image titles (this one is often overlooked!) etc.
Author SEO Conclusion:
SEO is one of those things that strikes fear into the hearts of authors, but it doesn't have to! Roll up your sleeves, and start using these simple steps to increase your online presence so Google can do the work for you and you can get back to writing!
And please,
Make sure to follow up with your google analytics page to see which pages are driving traffic and write more like those!
For more awesome info on how to optimize and find keywords, or how to calibrate them based on google analytics results, stay tuned to our new series on SEO for authors!
Good luck and Keep Writing!