As the holidays approach, it can be a lot of fun thinking of those we love and selecting the perfect gifts. And of course, this includes the fellow writers in our lives. So what is the perfect gift for writers? The one that will make them squeal with delight and write you into their next book as a glorious heroine with long-flowing hair and evil-crushing magic?
I suggest a short story.
Don't balk. I know there's a line of cheese that is hard to come back from if you cross it, and unsolicited poems and short stories can, frankly, toss you far across the line. But not if it's done right.
Turning the gift of short stories into a Secret Santa is the perfect way to give a meaningful gift, receive one yourself, and skirt that awkward line that comes with a wide, square grimace-smile and forced thank you.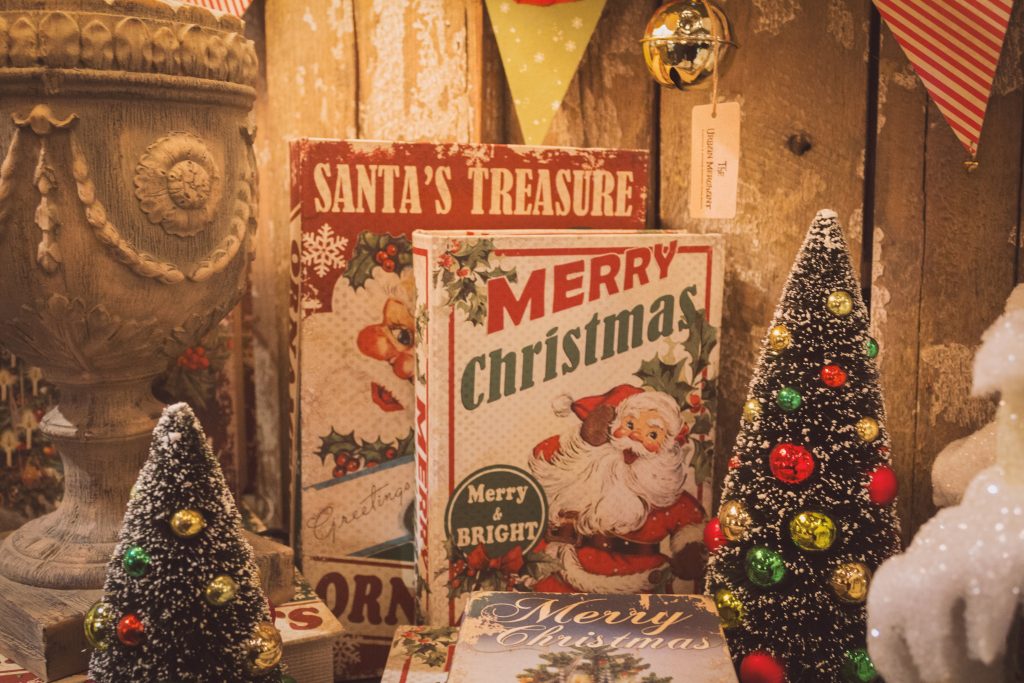 Why a Short Story is the Perfect Gift for Writers
But before we get into the nitty-gritty of how the Secret Santa of prolific prose works, let's elucidate why short stories are the perfect gift for writers.
Reason #1: Writers Love to Read
And yes, I'm happy to make that bold generalization. Though, I suppose I could qualify it with the word good. Good writers love to read because that's how we get better. It scratches the learning itch and gives us the other-worldly adventure and escape we all crave. When you write a fellow writer a short story, you are helping them have fun and hone their craft at the same time. Perfect!
Reason #2: Writers Know That Writing Takes Time
While I could spout adages about time being more valuable than money and other death-bed regrets, I'd rather just say it simply. People like it when others spend time on and with them. And while your gardner may enjoy a good turn of phrase and your coworker may sneak novels into the bathroom, if they don't write, they probably won't understand how much time and how many tears went into creating that mini-masterpiece.
The writer in your life, however, will know just how long that page took you and smile when they see it.
Reason #3: Writers Appreciate Thoughtful Gifts
I believe it goes without saying that gifts mean more to people when they are unique and/or tailored to the receiver. There's a reason those generic hand towels Aunt Suzie gave you still have their tags on in the back of the closet while the ugly mug from weird Uncle Tom with your favorite sarcastic catchphrase on it gets used every day with breakfast.
With that in mind, what gift could be more personalized than a short story? Aside from a tattoo of their face on your backside, that is. (Though they probably won't appreciate that one, so make sure you read the room on that one). Very few mediums can achieve the level of personalization like a story no one else has ever read before. It doesn't even need a pretty little bow.
With these 3 solid reasons under our loosened holiday belts, let's take a look at just what a Short Story Secret Santa is.
How Short Story Secret Santa Works
Now, some of you with quick minds and sharp tongues to match may be thinking (or complaining out loud to your computer), "If the short story is SECRET, how can I personalize it at all? Doesn't that negate at least one of the reasons above?"
Yes, and no.
Short Story Secret Santa is all about writing unique stories a specific person wants to read.
Here's the gist:
Gather writers who are interested in spending time and creativity (not money) on fantastic gifts for the other writers they love in their lives.
Use a good ol' fashioned hat if you're old-school or a google form if you prefer a more streamlined approach. Have every person in the group submit a story idea they've always wanted to read. For this step, make sure the writers in your group are either comfortable with expanding their literary horizons or all write similar genres. The requirements for this section can be super vague: Give a genre of a short story you'd like to read. A little less vague: write the headline for a story you want to read! Or more specific: Give a five-point plot outline of a story you think would be interesting. Just make sure the guidelines are clear so everyone has the same starting point.
Draw or assign the stories randomly and anonymously to the people in the group, making sure no one gets their own story idea.
Set a deadline. Then decide if everyone will post their stories to the same place with the attached prompt, or if they will go to each person individually.
Feel free to download the graphic below and post to your groups so you can get your Short Story Secret Santa started!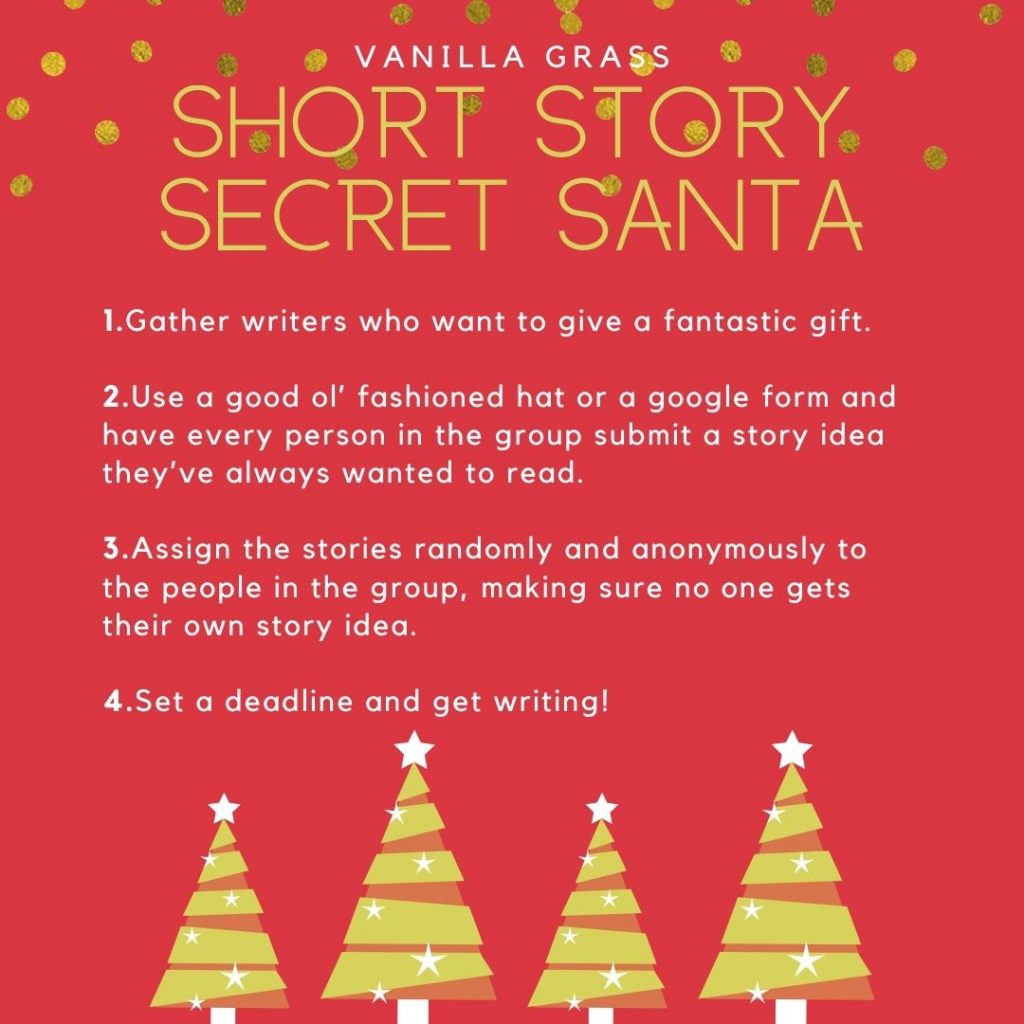 And voila! You can now write a very personalized story (or vaguely personalized one, depending on parameters), bring a smile to the face of a writer in your life, practice your skills, and give a great gift that costs nothing but the amazing power of your brain.
In exchange, you'll have also received your own personalized, thought-out story made just for you and tinged with the blood and tears of someone you love. What could be better?
Are there any other writerly gifts you love to give or receive? We'd love to hear about them!
And if you've just joined the writing world and are looking for a way to meet more writers, be sure to check out our writing events calendar or the section on writing groups on our Writing Resources page.
And if you need help getting started, be sure to take a look at our post on story structure and this one on story beginnings to get you going.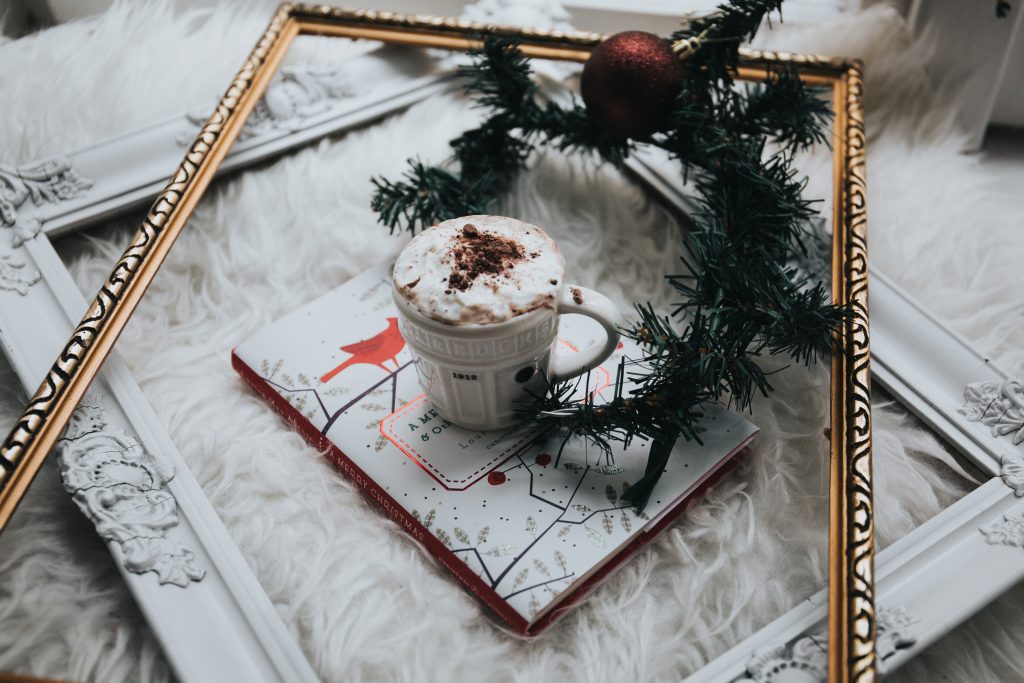 Happy Holidays!
Carolyn